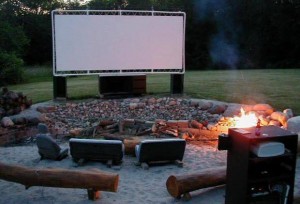 We came across this image showing a great DIY outdoor movie theater. They made good use of recycled materials including old car seats, PVC and more.
They built an outdoor movie screen made with PVC pipes, tethers, and a white tarp. Simple materials to make an outdoor theatre!
It's simple and elegant. We love that! 🙂
Build your own and enjoy some wonderful movies outdoors!
Here are some links to ideas on how to build your own
How to Build an Outdoor Movie Theatre
Build Your Own Outdoor Movie Theatre