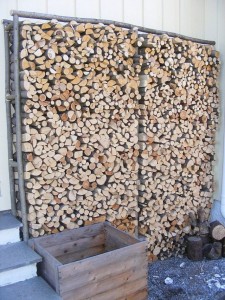 This is a simple and effective project to create firewood racks and keep the firewood you need close to your house. It makes getting the firewood inside a lot easier when it's cold! 🙂
We found this project at handycrowd.com. Kudos to handycrowd for a fast, simple, effective project to help make it easier to get through winter. It will help keep those winter months a bit more warm and toasty!
Build your own firewood rack
Check out this project and build your own firewood rack. Let us know how it goes for you and if you come up with any tweaks to make it work better for your situation.